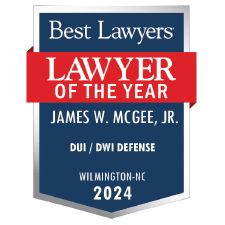 Jimmy McGee was Named the 2024 Best Lawyers® DUI / DWI Defense "Lawyer of the Year" in Wilmington, NC Metro Area.
Carolina Beach, NC DUI / DWI Lawyer
Carolina Beach is also known as Pleasure Island. A day of pleasure at Pleasure Island can turn bad quickly if you are charged with a DUI / DWI.
One second you're enjoying yourself with friends or family; the next, you're worried about license suspensions, astronomical insurance surcharges, future job applications, and more.
There is no doubt getting charged with a DUI / DWI is very stressful. But that is no reason to bury your head in the sand and not fight the charge to mitigate the damages to your future.
At the very least, you need to call and speak with a lawyer who is experienced in handling DUI / DWI cases in the Carolina Beach area. The McGee Law firm offers free consultations for anyone who has been arrested for DUI / DWI charges in Carolina Beach.
Jimmy McGee has been serving the Carolina Beach and Greater Wilmington Area since 2003. While he handles all types of Criminal Defense Law, he has made a name for himself in the area of DUI / DWI Defense.
For those facing a DUI / DWI charge, it may seem like the world is against you. You may feel ashamed or embarrassed. Know that the McGee Law Firm is on your side, and we're here to fight for you and your best interests.
Frequently Asked DWI / DUI Questions
Request a Free Consultation
Learning More About What You're Facing Is Easy
We understand that you may be dealing with a lot right now. We strive to ensure that discovering your legal rights and knowledge of your overall circumstances is as effortless and relaxing as possible.
Call 910-254-0400 or connect online.
In-person or phone. We'll clarify your situation.
After insights and fee info, choose your path.
Our consultations are always 100% Free, 100% Confidential, and 100% Dedicated to serving your best interests. Your trust is paramount to us.