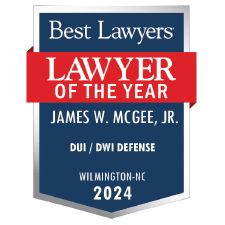 Jimmy McGee was Named the 2024 Best Lawyers® DUI / DWI Defense "Lawyer of the Year" in Wilmington, NC Metro Area.
Pender County, NC DUI / DWI Lawyer
If you have been arrested and charged with DUI / DWI in Pender County, North Carolina, there is no doubt you have a lot on your mind following the arrest.
You may be wondering how this charge is going to change your life. A DUI / DWI charge in the state of North Carolina is severe. The state takes these charges seriously.
In addition to the financial burdens that come with a DUI / DWI charge, you may be worried about how this will affect your work and home life.
At this point, it's essential to contact a lawyer who is very familiar with DUI / DWI laws in the state of North Carolina.
Jimmy McGee has been handling DUI / DWI Defense in Pender County, North Carolina since 2003. He is very familiar with the Pender County Courthouse and has built a reputation of being an aggressive fighter for his clients.
The McGee Law Firm offers free consultations where you can ask any question you have about your Pender County DUI / DWI charge to achieve peace of mind.
If you have questions, don't let them weigh on you and cause even further anguish. Contact Jimmy McGee for a consultation today.
Frequently Asked DWI / DUI Questions
Request a Free Consultation
Learning More About What You're Facing Is Easy
We understand that you may be dealing with a lot right now. We strive to ensure that discovering your legal rights and knowledge of your overall circumstances is as effortless and relaxing as possible.
Call 910-254-0400 or connect online.
In-person or phone. We'll clarify your situation.
After insights and fee info, choose your path.
Our consultations are always 100% Free, 100% Confidential, and 100% Dedicated to serving your best interests. Your trust is paramount to us.