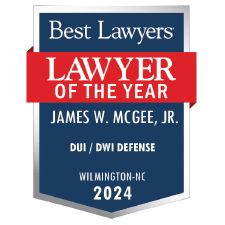 Jimmy McGee was Named the 2024 Best Lawyers® DUI / DWI Defense "Lawyer of the Year" in Wilmington, NC Metro Area.
Topsail Beach, NC DUI / DWI Lawyer
Fishing, surfing, and hanging with friends and family at Topsail Beach is fun. What's not fun is being arrested for a DUI / DWI charge in Topsail Beach.
Arrest and accusation of a DUI / DWI can be very stressful. Instead of thinking of fun beach time, you begin thinking about your ability to drive or how much your insurance is going to spike. A DUI / DWI conviction can follow you for life. The effects linger and show up when you have to apply for jobs, school, or even housing.
At the McGee Law Firm, we have helped many people who have been arrested for DUI / DWI charges in Topsail Beach and Pender County. James McGee has been handling cases in the area since 2003 and is very familiar with the Pender County Courthouse.
If you have questions about your Topsail Beach DUI / DWI arrest, don't hesitate, contact Jimmy McGee today for a free consultation about your rights. The McGee Law Firm handles first offense, second offense, and third offense DUI / DWI cases.
If you're thinking about hiring an attorney to defend you, it's best to get one as soon as possible. The time allows the attorney to gameplan your defense and build your case. It's also essential to get someone quickly to defend your driving privileges.
Every DUI / DWI case is different. While we can provide general answers to common questions on this website, you're not going to know what you're facing until you contact an experienced DUI / DWI lawyer.
Frequently Asked DWI / DUI Questions
Request a Free Consultation
Learning More About What You're Facing Is Easy
We understand that you may be dealing with a lot right now. We strive to ensure that discovering your legal rights and knowledge of your overall circumstances is as effortless and relaxing as possible.
Call 910-254-0400 or connect online.
In-person or phone. We'll clarify your situation.
After insights and fee info, choose your path.
Our consultations are always 100% Free, 100% Confidential, and 100% Dedicated to serving your best interests. Your trust is paramount to us.