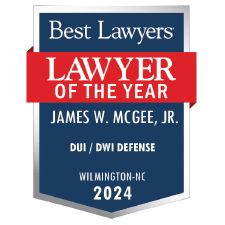 Jimmy McGee was Named the 2024 Best Lawyers® DUI / DWI Defense "Lawyer of the Year" in Wilmington, NC Metro Area.
Wrightsville Beach, NC DUI / DWI Lawyer
After a DUI / DWI charge, you may feel embarrassed or ashamed. You may think that not fighting the charge and "staying small" and taking a conviction will help this all blow over.
If you have been arrested for DUI / DWI, you need to, at the least, speak with an experienced lawyer who has years of experience handling DUI / DWI cases in the Wrightsville Beach area. In the case of a DWI / DUI conviction, there are many things you may not be thinking about down the road that will disrupt your life.
Job prospects and education prospects can be diminished. Your license can be revoked. Travel to foreign countries can be barred. A DUI / DWI conviction will follow you and rear its head when you least expect it.
Jimmy McGee of the McGee Law Firm has been helping clients who have been charged with DUI/DWI in the Wrightsville Beach area since 2003.
Over the years, McGee has built a record of aggressive defense for his clients. McGee has been listed "Lawyer of the Year" by Best Lawyers in the Wilmington Metro Area twice in the past six years.
If you're facing a DUI/DWI charge in Wrightsville Beach, you're most likely stressed and have a lot on your mind. You might be going through a thousand scenarios about how this is going to play out.
If this sounds like your current situation, don't stress any longer. Contact the McGee Law Firm for a free and confidential consultation. The consultation will give your peace of mind about your situation. Jimmy McGee will address all of your questions. After sharing your details, he will provide you with an honest outlook on where you stand and what can be done to fight your charges. It cost nothing to learn more about your situation.
Frequently Asked DWI / DUI Questions
Request a Free Consultation
Learning More About What You're Facing Is Easy
We understand that you may be dealing with a lot right now. We strive to ensure that discovering your legal rights and knowledge of your overall circumstances is as effortless and relaxing as possible.
Call 910-254-0400 or connect online.
In-person or phone. We'll clarify your situation.
After insights and fee info, choose your path.
Our consultations are always 100% Free, 100% Confidential, and 100% Dedicated to serving your best interests. Your trust is paramount to us.